Hey Church family & friends,
There is a lot that's been happenning here over the past month at Tamarindo Church. One of the highlights was this past 

Sunday

 when three kids in children's church made a decision to follow Christ as their Lord and Savior.  We are thankful to see God moving in the hearts of kids in our children's church.  Thank you volunteer team for your faithfulness in loving and teaching our kids.  Another highlight was that we heard a great message this past 

Sunday

 from Darryl Evetts who is the Church Planting Director of the International Baptist Convention.   His message gave us  a bigger picture of the church planting movement in expat communities around the world.  We were left with gratefulness for what God has done in allowing Tamarindo Church to be planted in our expat community, and we are also thankful to be part of this church planting movement.
There is much more to fill you in on…  so let me just jump right in with some updates…
IBC Annual Meeting

Last week…. Stacey and I  headed up to San Jose CR for the annual meeting of the International Baptist Convention (IBC).  For those of you who are not familiar with the IBC, this organization is a fellowship of 65 international English-speaking churches that 
span the globe and that our church belongs to.   One of the moments Stacey and I appreciated most during the week was a Q&A session with some of the older, seasoned pastors who have served in international English speaking churches for many years.  They had a lot of wisdom to share with us younger pastors/wives on how to maintain a healthy personal life and ministry while serving abroad in expat settings.   We also appreciated the opportunity to be able to stay an extra day and participate in the Catalyst church-planting meeting where we were updated on the IBC's vision for seeing more church plants in expat areas around the world.  If you are interested in learning more about the IBC, or if you know of any pastors out there interested in international church pastoring/planting, be sure to check out these websites.  www.ibc-churches.org  http://www.internationalchurchplanting.com
Parenting Course

This past month 13 families participated in a 5 week Parenting Course at Tamarindo Church.  During our time together we learned and discussed topics such as: meeting our children's need for love, setting healthy boundaries, and teaching healthy relationships.  In addition to the great conversation shared among parents, we also shared delicious dinners prepared by  Lori Stasny, and local restaurants like Witch's Rock Surf Camp, Wok n' Roll, Sprout, Jalapeños.  Thank you to all of you for preparing delicious meals… and thank you to all volunteers & staff (Taya, Elizabeth, Bud, Ellis, Steve, Tommy & Ashley) who cared for our kids during the course!
2017 Annual Pledge Drive
We are at the time of year again when we have our 
annual pledge drive for our church budget for the coming year.  We look forward to filling you in on our vision for 2017 in a separate email.  For the time being,  we ask that you prayerfully consider including Tamarindo Church in your ministry of giving in the coming year.  We'll be in touch soon with more details.  Thank you!
Mark Your Calendars
Be sure to read below and mark your calendars for a few important events coming up over the next 3 months including:
Thanksgiving Gathering- 

November 24th

Sailing Day- 

December 4th

Nicaragua Mission Trip- 

January 23-27th
You can find out more about these events in the announcements below.

Thank you to all of you for all of the ways you contribute to the life and ministry of Tamarindo Church.   Your prayers, time volunteering, financial giving, and encouragement are super appreciated.  We couldn't do this without you.  THANK YOU!  Blessings to you and your loved ones as you celebrate Thanksgiving this month.  We hope to see you Sunday at Church.
Peace,
Lyle & Stacey
---
ANNOUNCEMENTS
PIZZA FELLOWSHIP
Sunday, November 13th 
Join us 
on Sunday the 13th
after Church for hanging out, pizza, and a swim in the pool at Monkey Bar/Tamarindo Best Western Vista Villas.  This is a great time for connecting with others in the church in a way that we just don't get to do 
on Sunday's
 during church service. Don't forget your bathing suit and towel.  Hope to see you there!
Directions From Church: 
Drive toward Tamarindo
You will see Best Western Vista Villas and Monkey Bar on your left.
____________________________________________
YOUTH & CHILDREN'S MINISTRY
Last month we started a new curriculum in Children's Church 
on Sunday
 Mornings called Konnect.  This month we are learning how to R. O. B. fear of it's power with God's truth! (R: Remember God's Word, O: Open your mouth and speak God's word, B: Battle it out!) The kids are memorizing scripture and having great discussions.
We are also having a blast with the Youth Group!  We play crazy games, laugh hard, and have a fun time.  We are digging into the Bible to figure out who Jesus really is, and what it means to be a follower of Christ. Last week when we were wrapping up the night, I asked if anyone would like to pray for us. One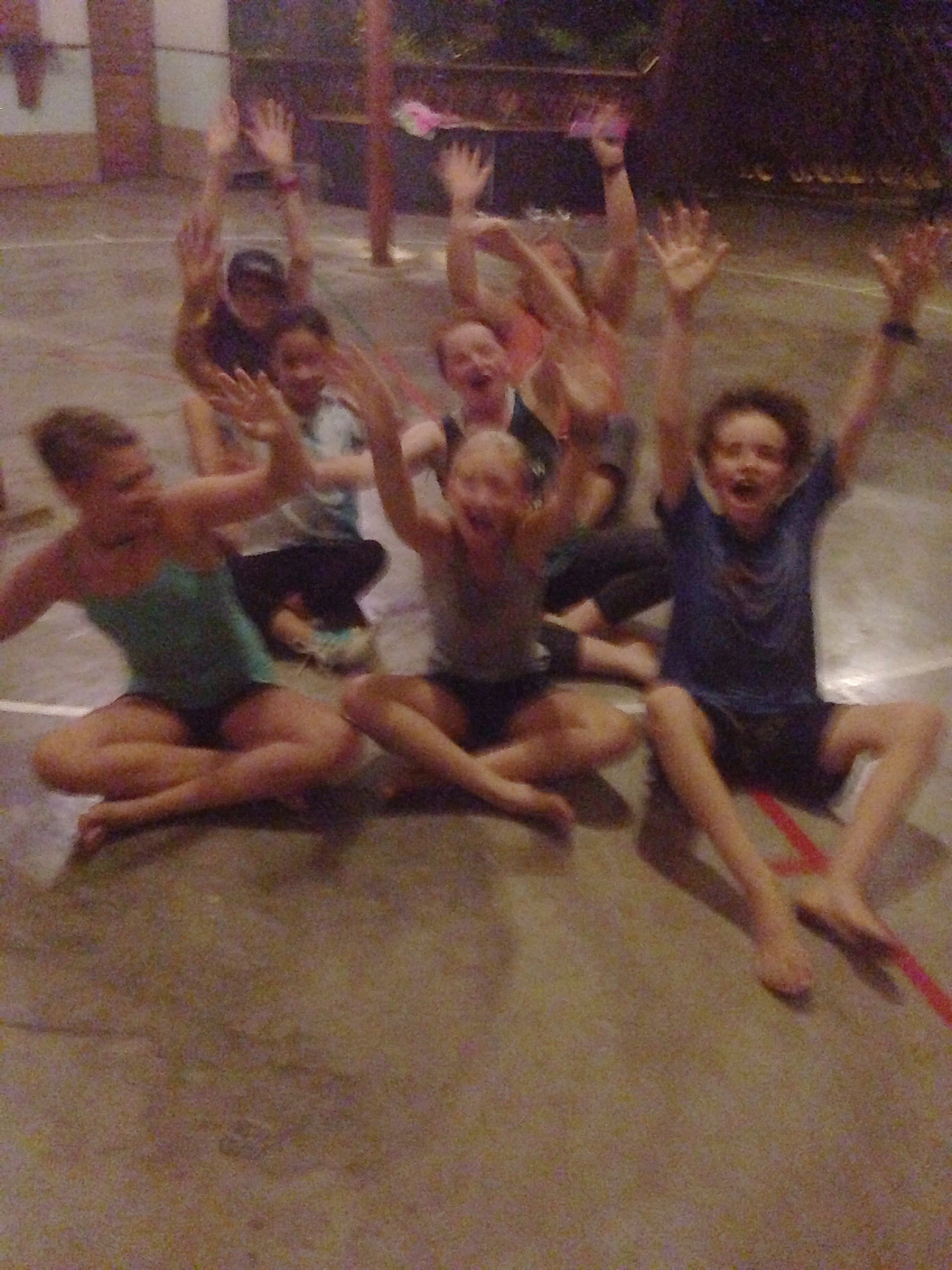 student, who doesn't attend church and has come to youth only once before, raised his hand and said, "I'll do it! But what do I do? I've never prayed before." And for the first time in his life, this kid opened up a conversation with the God of the universe in front of all of his peers. It was incredible!  If you have kids grades 6-12, they are welcome to join us 
on Friday
nights.  Stay up to date on TC youth events by joining the TC Youth Facebook Page.  And if you have any questions, feel free to contact me (Ashley Look) via email.  
ashleylook9@gmail.com
Youth Group meets every Friday at Tamarindo Church, 7 pm – 8:30 pm. All 6-12 grade students are welcome!
_______________________________________
THANKSGIVING @ Tamarindo Church
Come join us on Thanksgiving for a night of fun, fellowship and thankfulness Tamarindo Church.  Please RSVP if you are able to attend. We hope to see you there!
~ DATE: Thursday, November 24th
~ TIME: 5:00pm
~ PLACE: Tamarindo Church
~ WHAT TO BRING?:
We will bring the Turkeys… and we ask that everyone please bring a side to share.  Please contact Stacey Watson regarding what side or desert you will be bringing.  staceycostarica@gmail.com
~ COST: Free!
PLEASE RSVP
We would like to have an accurate count of how many people to expect, so PLEASE email Steve Page at tamarindochurch@gmail.com
to let us know if you can join us and how many will be in your party.
_______________________________________________
TC SAILING DAY- December 4th
Come and join us for a beautiful day of sailing, 
snorkeling and fellowship aboard the Marlin Del Rey Catamaran.  Our church is getting a super discounted price, so be sure to take advantage of this opportunity.
To reserve your spot, please contact Steve Page at 
tamarindochurch@gmail.com
Date:  

Sunday, December 4th

 
Cost:  $35 adults/ $15 age 12yrs & under/  5yrs and under free. 
Includes: sailing, free drinks and food, snorkeling gear, use of sea kayaks, and a beautiful sunset as we sail back into Tamarindo.  
Departure: We will leave from Tamarindo Beach 50 meters south of Nogui's Restaurant at 

1PM

.  
Return: at Sunset… about 

5:30

.
_______________________________________
Nicaragua Mission Trip- January 23-27
Yes… we are headed back up to Nicaragua to help local churches and the community in Tipitapa.   The dates are set, and our trip will be from January 23-27.    

The cost will be $425/person which will include all transportation, food, lodging & boarder crossing fees.  If you are interested in joining us or would like to know more about the trip, please contact Pastor Lyle at lyletamarindo@gmail.com.    Space is limited, so sign up soon!!
How You Can Help…
If you are not able to go, but would like to contribute toward our efforts, please let us know and we can direct you on how to make your donation.  Our goal is to raise $5,800 to accomplish the following projects.  If you'd like to contribute toward these projects, please contact pastor Lyle for information on how you can make your donation.  lyletamarindo@gmail.com
Building 4 houses- $650 each (total $2600)
Distributing 350 food bags- $2800
Donating 1 month of food for feeding center- $400
      Thank you!
_______________________________________________
SKATE CLUB- WEDNESDAY @ 4:30pm
Skate Club meets every 

Wednesday

 @ 

4:30pm

 
(Weather Permitting)
Kids 6-10yrs welcome.  Skate session is followed by a
group bible study with the kids.
Location: El Mutante Skate Park, Playa Negra
Cost: Free  Schedule:  Contact Mike & Keilyn Krepin to
We will have extra skate boards, pads, and helmets… but if you have your own, please bring them.  We hope to see you there!

WHEN? Tuesdays@
10am-11:30pm
WHERE? Meetings are at the Watson's home.
or call 8706-7479
~ MEN'S GROUP–
WHEN? Wednesdays @ 
8:00am
WHERE? Come join us on Wednesdays 
8AM
 at the French Bakery located across from the entrance to Best Western Vista Villas.  If you would like to come early and hang out over breakfast or coffee, several of us meet early at 
7:30
.
---
~ PRAYER REQUESTS ~
Did you know that Tamarindo Church has a page where you can share your prayer requests with us.  On this page you have the option to have us keep your requests confidential, or to have us invite others to be praying for you.
CLICK HERE 
to check out the new page and submit your prayer requests.
Tamarindo Church Prayer Requests

Please continue to pray for……

VISION

that God would guide us in our vision and strategy for reaching and serving our community.

MINISTRY TEAM
Thanks to God for providing funds for us to hire two part-time staff.   And thanks to God for our volounteers who serve in many roles in the church.  Please pray that God would continue build a sense of unity and family among our core church members.

FINANCES
Please pray to our Father that he would meet our needs in the coming year through pledges and regular supporters!  We will have our pledge drive over the next couple of months (November- December).

OUTREACH
That God would create a spiritual hunger in our community, and that we would see many come to a saving faith in Jesus Christ.  Please pray that our church members would be salt and light in the community to those who are not saved.

CHURCH PROPERTY
We are VERY grateful for the donations that have been made so toward the property purchase and construction of a church and children's ministry area.  Please continue in prayer with us:  1.  In thanks to God that he has given us an opportunity to secure a lot for a great price at a great location.  2. That the property would be freed from the lien against it.  3. If for some reason this is not the property God would have for us, that he would direct us to another property.  4.  God would continue to meet our financial needs for this project.

LYLE & STACEY
For spiritual wisdom and direction as we lead the church.
– For Stacey's new job in real-estate… that she would find balance between family, ministry and work.  And that she would make enough to cover our children's school tuition.

OUR FAMILY
For meaningful times together and healthy balance between family and ministry.

SPIRITUAL PROTECTION 
Payer over our family and our church Ministry Teams.

---