We had a great month here at Tamarindo Church in April.  There's been a lot going on and a few cool fun things coming up… so let me just jump in and fill you in on the latest.
BAPTISM & BABY DEDICATION

This past Sunday was definitely the highlight in April. During service, we celebrated a baby dedication… followed by celebration of  a beach baptism… followed by some pizza and fellowship at the Best Western/Monkey Bar.  It was a great day of worship, celebration and fellowship.  Congratulations to Amber Vargas Murillo, whose parents Manuel and Melissa had her dedicated this Sunday.  And in  addition, congratulations to Olivia, Francis, King, Brett, Melissa and Jerry, who were baptized at the beach.  May the Holy Spirit draw all of you to a deeper knowledge of God's love for you and into a deeper experience of your faith in Him.
I'd like to share a quick story about one of the neat things that happened during the beach baptism on Sunday. As most of you know, one of the significant aspects of baptism is that it is a public testimony of our faith in Christ.
 Well… while people were being baptized, there were several people surfing and walking the beach who took notice.  One woman, from somewhere in Europe, asked one of our church members, "What is going on here?"  He answered the woman, "We are a church doing baptisms… these people have committed their lives to following Jesus."  It blew me away to think that someone would NOT recognize baptism when they saw it… but it blew me away even more to think how awesome it was to know that seeds were planted in that woman's mind and heart. That day someone from post-Christian Europe had their first encounter with  Christian baptism…. and seeds were planted in her heart.  There ARE people who believe Jesus is Lord, and who believe that He IS worthy to be followed.
CHILDREN'S MINISTRY LEADER- STEPHANIE GOUGH
As many of you know, a big part of Tamarindo Church's vision is to serve and reach children and families in our community.  To continue this vision,
we are "officially" bringing Stephanie Gough on board as our Children's Ministry Leader at Tamarindo Church.  For those of you who don't know , Stephanie and her husband Brian have two children, Mckenzie and Xavier, and they own Surf Shack Burgers in Tamarindo.  They have lived in Tamarindo for eight years, and  Steph has been serving for almost four years now as a volunteer at Tamarindo Church.  Prior to serving at Tamarindo Church, Stephanie spent her teen years participating in the Awanas program and serving as a Children's church volunteer at her church.  During her college years, she spent her summers volunteering to help run VBS at her church.  We are confident that Stephanie is going to do a great job organizing and providing vision to our children's programs, and we are thankful to have her on the team at Tamarindo Church.  Welcome aboard Steph!
CHURCH BUILDING & PLEDGE DRIVE UPDATE
Okay… a quick update on the building program.  Since the last update, there have been some minor delays in the permitting, but it's looking like we will be breaking ground before the end of May!  You should see some land movement happening
soon if you are driving by.  Exciting stuff.

A quick update on finances for the building.   We had a few donations come in this past month, and we are now only $48,000 short of our goal for entire cost of construction! Please pray with us  that the municipality grants permits with no more delays… and that the coming rain isn't a hindrance to our laying the foundation for the building over the next month or two.  And lastly please pray with us that God will provide the rest of the funds needed for completion of construction.  Thank you for praying with us.  For those interested in learning more about or giving toward this project, please CLICK HERE
MEN'S RETREAT

All right guys… I know we are still a few months out, but just want to give you heads up that we have set the date for our annual men's retreat.  This year's trip will be September 10-14, and we will be headed down to Corcovado again.  Please scroll down in this newsletter to find more details on the trip.  Hope you can join us!
Thanks again to all of you for the many ways you support the life and ministry of Tamarindo Church.  It's an exciting season for Tamarindo Church, and we couldn't have gotten here with out you.  Thank you!
Peace,
Lyle & Stacey
---
PIZZA FELLOWSHIP-  

Sunday, May 13th

 
Come join us on Sunday the 13th after Church for hanging out, pizza, and a swim in the pool at the Monkey Bar/Tamarindo Best Western Vista Villas.  This is a great opportunity to connect with others in the church in a way that we just don't get to do on Sundays after church service. Don't forget your bathing suit and towel.  Hope to see you there!
Directions From Church:  
Drive toward Tamarindo.
You will see Best Western Vista Villas
and Monkey Bar on your left.
______________________________________
MEN'S RETREAT– September 10-14th

Hey guys,
So… here's the scoop on the upcoming Men's Retreat.  We are headed down to the same spot we've been the past couple of years in Corcovado.  Here's a link to the spot. Men's Retreat .

During our time down there, we will be going through the No Regret's Men's Conference talks to guide our lessons and discussions.  In addition, we will have some free time to surf, hike, spearfish, etc.


Cost will be $250/person and includes all food, gas, transportation, and lodging.
If we get more than 10 guys, we could potentially rent one or two more houses on the property.  For more information, or to reserve your spot, please contact Pastor Lyle at lyletamarindo@gmail.com
_____________________________________________
TC Youth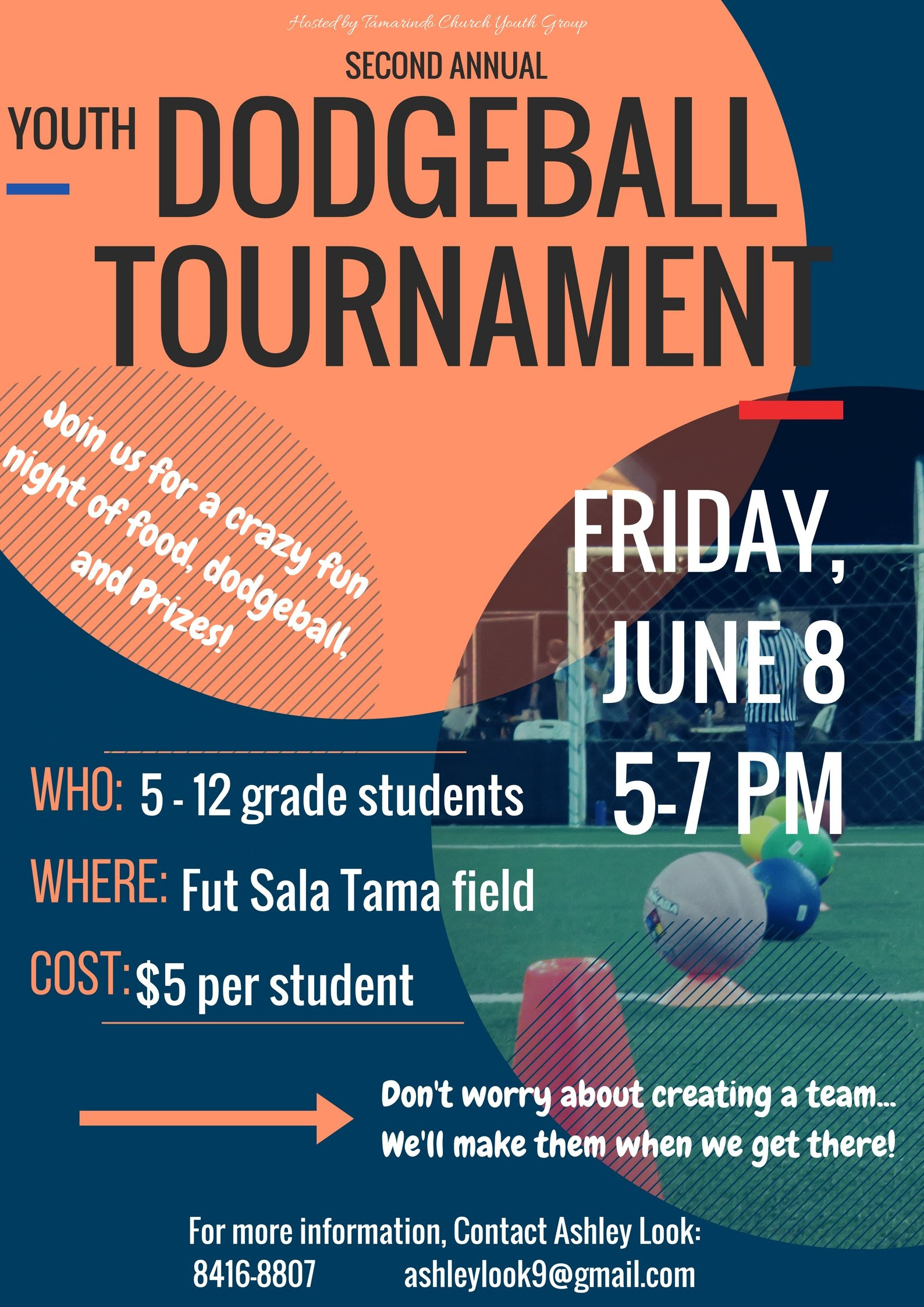 Aside from the upcoming Dodgeball Tournament, we will be meeting on Friday nights as usual for Youth Group.
Youth nights at Tamarindo Church create an environment where teenagers feel welcomed and safe to be themselves.
Each week, we start with some crazy games… followed by a time of digging into the Bible together to figure out who Jesus is and what He is all about.  All 6th – 12th grade students are invited!
Join us for Youth Group every Friday, 7 – 8:30 pm at Tamarindo Church! Join our facebook group "TC Youth" and follow our instagram account "tcyouthcr" to stay up to date on what's happening!  Be sure to "LIKE" our Facebook page for Tamarindo Church Youth to stay updated on any changes in schedule or special events.  Click here to go to our page.  TC Youth
For more information, contact Ashley Look: 8416-8807    Ashleylook9@gmail.com
_____________________________________________
MUSICIANS WANTED 
We are seeking people with musical and vocal talent to join
our worship team. If God has gifted you with musical or technical talent, we want you to be able to use it for His glory! Our immediate need is for instrumentalists, primarily Bass and Drums. We welcome those who can play other instruments (i.e. keyboard, ukulele, etc.) but the instruments cannot be supplied. Here are the first few steps for becoming part of the worship team…
Prayerfully consider your involvement.
Contact Lyle Watson: tamarindochurch@gmail.com expressing your interest. The email should include:

Musical or technical experience and skill.
The reason you are interested in joining the worship team.
Pastor Lyle will review your information and schedule time when you can join us for an audition.
---

WHEN? Mondays@
12pm-1:30pm
WHERE? Meetings are at the Watson's home.
or call 8706-7479
MEN'S GROUP–
WHEN? Wednesdays @
9:00am
WHERE? Come join us on Wednesdays
9:00 AM
at Pastor Lyle's home.  If you would like to come and hang out over coffee, several of us meet early at
8:30
.
---
Tamarindo Church Prayer Requests
Please continue to pray for……
VISION
that God would guide us in our vision and strategy for reaching and serving our community.
MINISTRY TEAM
Thanks to God for our staff and volounteers who serve in many roles in the church. Please pray that God would continue to build a sense of unity and family among our core church members… especially our Board, our Ministry Leadership Team, and our Volunteer Team.  Please pray that God would bless our ministry team with gifts of the Spirit to serve and lead well.
FINANCES
Please pray to our Father that he would meet our needs in the coming year through pledges and regular supporters. 
OUTREACH
That God would create a spiritual hunger in our community, and that we would see many come to a saving faith in Jesus Christ.  Please pray that our church members would be salt and light in the community to those who are not saved. 
CHURCH LIFE
Please pray for Olivia, Francis, King, Brett, Melissa and Jerry who were baptized last Sunday.  Please pray that God would draw them to a deeper and more meaningful relationship with him.  Please pray for our parenting course… that the Lord will give us greater love and wisdom in parenting our teens.  And lastly, please pray God's wisdom and guidance for Stephanie as she takes the role of Children's Ministry Leader at Tamarindo Church.
CHURCH PROPERTY
Thanks and praise be to God in providing the initial finances needed to start construction of the church. At this time we are only $48,000 away from meeting our financial needs for construction of the church.  Please pray that God meets our financial needs for construction… and that all of the permitting goes through with no more set backs.
LYLE & STACEY
For spiritual wisdom and direction as we lead the church.
For Stacey's job in real estate… that she would find good balance between family, ministry and work… and not feel over-stressed or anxious.  And that she would earn enough to pay for our children's school tuition.
 
OUR FAMILY
For meaningful times together and healthy balance between family and ministry.  For our children Olivia and Wolfie… that they would  continue to grow to know, love and serve our Lord.  For spiritual protection over our family.
 
SPIRITUAL PROTECTION 
Prayer of spiritual protection over our family and our church Ministry Teams…. guarding us from spiritual attack and oppression, and anything that causes dis-unity and divisiveness in the body of Christ at Tamarindo Church.