Hey Friends,
October is here… and so are the rains! We hope you locals out there are surviving the weather ok. And we hope you all in the US are enjoying the cooler temps of the Fall season up north. Below you'll find highlights from our men's retreat down in Corcovado this past month and an update on some local missions that folks at TC have been doing. And this coming month we have our Women's retreat and a Movie Night/Date Night outreach to the community. Please continue reading to find out more and to catch up on the latest at Tamarindo Church.
MEN'S RETREAT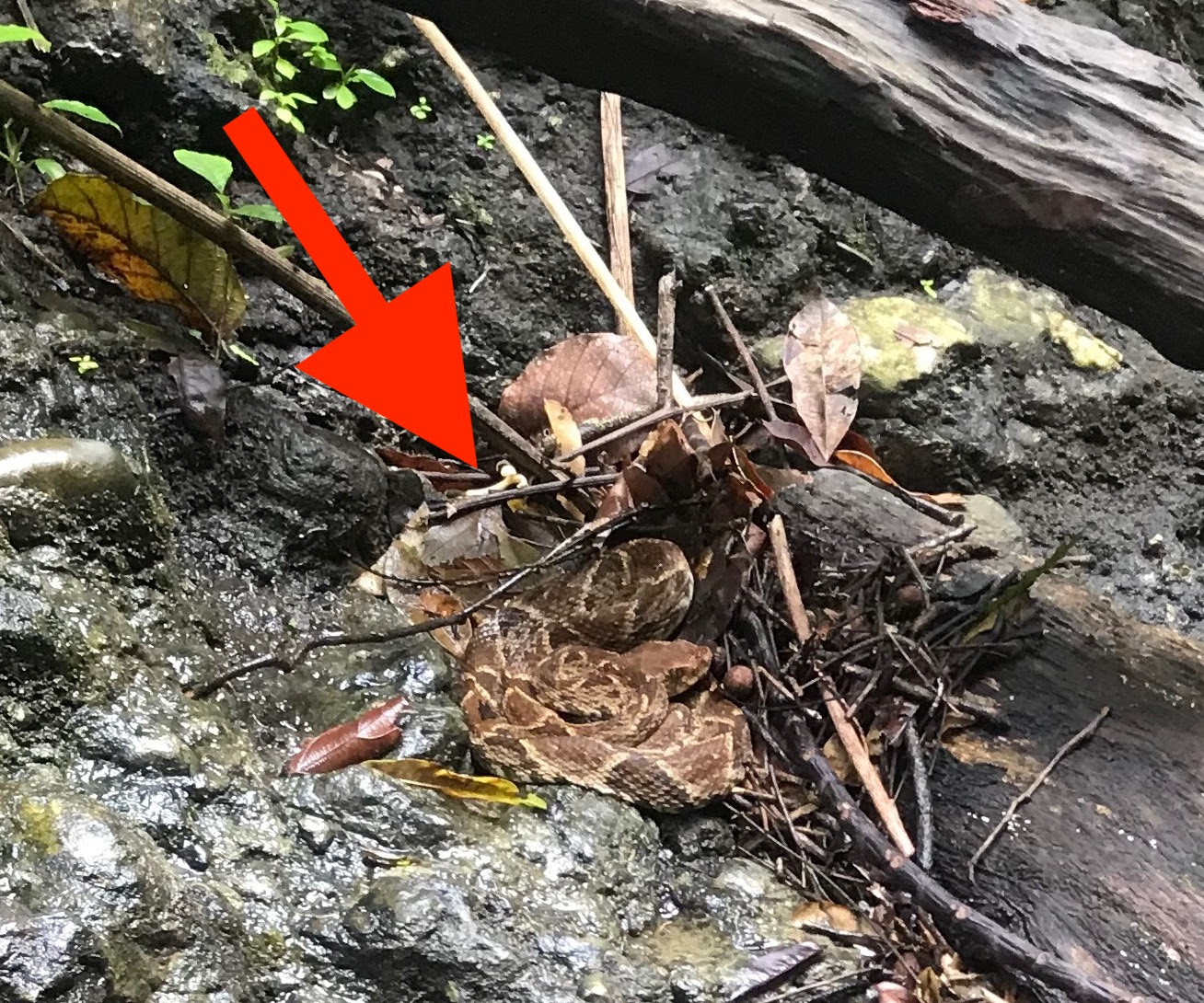 Thank you all for your prayers over our Men's Retreat. Despite a close call with a deadly Fer-de-lance snake (pictured on right), we all came back in one piece. And more importantly, we had a great time of digging in and having great discussion about what it means to be be Christian husbands, dads, and men. This trip was especially meaningful as there was a level of vulnerability and openness that
allowed God to move in some powerful ways in us and among us. And thank you all again for your prayers. And thank you ladies for holding down the fort while we were gone!
LOCAL MISSIONS FOLLOW UP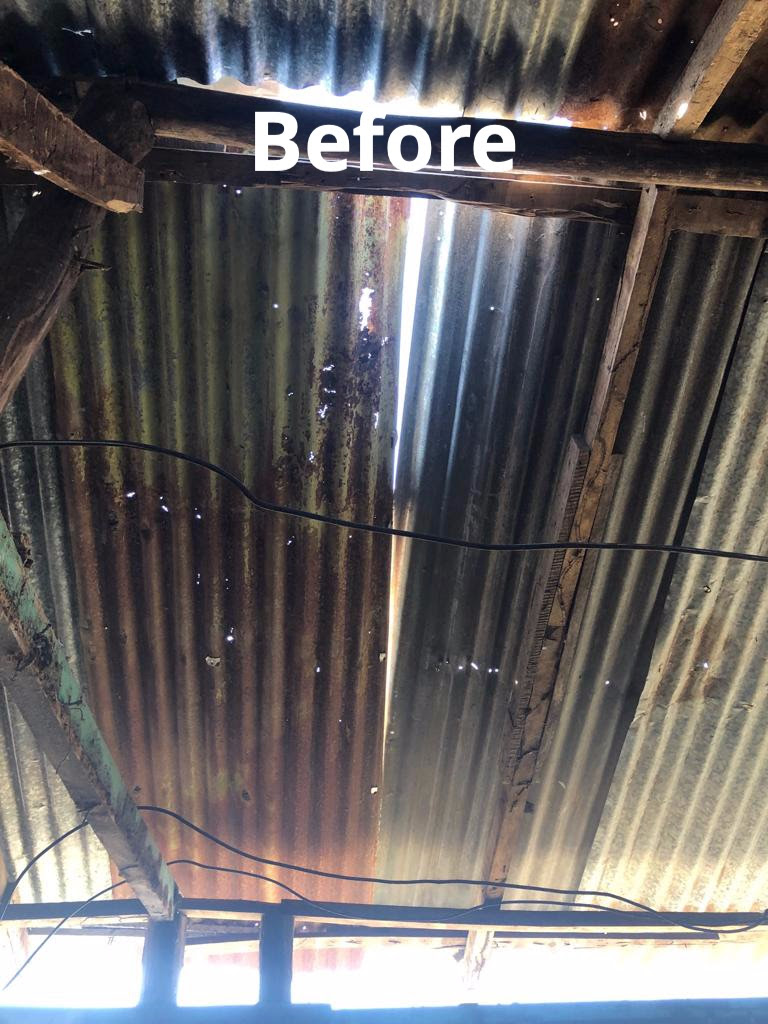 A few months ago we shared that there was a fire in St. Cruz that caused damage to some homes in an impoverished neighborhood. As folks from TC went to see how they could help, many needs were discovered. One of the ways our church family stepped into help was with the home of an elderly couple that had a VERY leaky roof, a dirt floor, tin walls that were unstable, and no running water. Thanks to the generosity of TC family near and far… the elderly couple "los viejitos" have a
much more inhabitable home. In addition, one other home was rebuilt and another had significant repairs done. The families are safe and dry this rainy season…. praise be to God! And thank you church family.
MARK YOUR CALENDAR
As we look to the months ahead be sure to read below about upcoming events and 
mark your calendars. These events include:
~ Pizza Fellowship- October 27th
– The date is for sure, but we still need to confirm the location for this event. Stay tuned for an update on location. We will also put word out via Facebook.
~ Women's Retreat October 18th-20th @ La Carolina Lodge. Mark your calendar for now… and for more information, please read the the info further down in this newsletter.
~ TC Thanksgiving Gathering- Sunday November 24th
On the Sunday prior to Thanksgiving Day, TC will be hosting a Thanksgiving Gathering at Tamarindo Church. All are welcome to attend. And if you serve as a volunteer on any of our ministry teams at TC, we ask that you please plan to attend church on this Sunday and the Thanksgiving meal/gathering in the afternoon. We would like to express our thanks to YOU in a special way on this day. Mark the date for now…. and we hope to see you there!
Pastor's PerspectiveIn closing I'd like to share just a couple of reflections over the past month. First, I'd like to say how encouraging it is to continue to see folks at church growing in fellowship with each other. Whether it's church on Sundays, men's and women's bible studies, pizza fellowship, bingo night, gathering to celebrate someone's birthday, or helping serve the poor…. it's just encouraging to see folks doing life and faith together in church and out of church. That's what true church family should be… and by God's grace this is happening at Tamarindo Church.
And secondly, I was encouraged this month to see people stepping up to serve in various ways during some transitions this month on our Sunday morning teams.  And just yesterday, I was able to pray with a group of about nine folks from TC before they went to "Las Pachotes" barrio in Santa Cruz to see how they could be of help to a family where the husband was severely electrocuted… and is currently hospitalized… and the wife and kids are in need of assistance. I love seeing the church being the church.
Thank you all again for the many ways that you partner with the Tamarindo Church family in advancing God's truth, love, grace and compassion into our community.  We hope to see you in Church this Sunday!

I thank my God every time I remember you. In all my prayers for all of you, I always pray with joy because of your partnership in the gospel from the first day until now, being confident of this, that he who began a good work in you will carry it on to completion until the day of Christ Jesus. Philippians 1:2-5
Peace,
Lyle & Stacey
MOVIE NIGHT/DATE NIGHT OUTREACH
Friday, October 11th
God loves loves the families in our community. And we think a fun way to communicate this is by hosting a movie night for kids. This gives kids a fun night out and parents a couple of hours for a date night (no kids!). This event will also serve as a great way to just connect with parents in the community and let them know a bit more about Tamarindo Church.
Come help out with the event!
To make this event an excellent experience for our guests, we are looking forming a team of volunteers to help host the event.  If you are interested in learning more about how to get involved, please contact Stephanie Gough at stephgough5@gmail.com.  or Just hang out after church this Sunday, October6 for an informational meeting.  
PIZZA FELLOWSHIP
Sunday, October 27th
Hey all… just a reminder that we are on for pizza and hanging out after church on Sunday the 27th after church.  Location still to be determined.  We keep you updated at church on Sunday and via Facebook on the location.  Stay tuned!
WOMEN'S RETREAT- Oct 18-20
Don't miss the Women's Retreat! Join us for a great weekend of deepening your relationship with God and other women at La Carolina Lodge .  You won't want to miss the wonderful food and amazing setting.  Cool off with a swim in the jungle stream, warm up in the stream-side hot tub, enjoy a yoga workout, massages, horseback riding, or a hike up to the Rio Celeste waterfall. 

Cost is $150, which includes 2 nights and all food.
Look for inforrmation on the TC Ladies What'sapp group or contact Mindy Stoms: Whatsapp 847-924-8386, mstoms@gmail.com, Cell:8725-4960.  
WEEKLY MEETINGS FOR YOUTH
FRIDAY NIGHTS– Join us for Youth Group every Friday, 7 – 8:30 pm at Tamarindo Church!
Youth nights at Tamarindo Church create an environment where teenagers feel welcomed and feel safe to be themselves.. Each week, we start Youth Group with some crazy games… followed by a time of learning about God and how to apply God's truth in their lives. All 6th – 12th grade students are welcome!
SUNDAY MORNINGS– Teens can grow deeper in their faith on Sunday mornings at 10:00am where they have the opportunity to dive deeper into God's truth together at church. Ages 13 and older welcome!
Join our facebook group "TC Youth" and follow our instagram account "tcyouthcr" to stay up to date on what's happening! Be sure to "LIKE" our Facebook page for Tamarindo Church Youth to stay updated on any changes in schedule or special events. Click here to go to our page.
For more information, contact Justin Novgrod: 8765-8310   
lionsgatekungfu@gmail.com
TC WISH LIST
From time to time, Tamarindo Church will have wants/needs for the church that we do not currently have in our budget. If you would like to help by contributing toward any of the items below, please contact Lyle Watson: lyletamarindo@gmail.com
Storage Space- We are finding that we are short on storage space and we would like to build a space downstairs on the first floor of the church. Cost is estimated at $2,000. Any help toward toward this project would be greatly appreciated!
Furnishings for Children's Church/Youth Room- This month Journey School will be moving out of the TC building and relocating to their new location, and they will need to take their classroom furniture along. So…. TC is planning to build some tables and shelves for the downstairs classrooms and purchase some new chairs. We guesstimate a budget of about $1,400 should cover it. If you'd like to contribute toward this effort, please contact pastor Lyle. Lyletamarindo@gmail.com
MUSICIANS WANTED –
Psalm 95:1
"Come let us sing a song
for joy to the Lord;
Let us shout aloud
to the rock of our salvation"
Has God gifted you with musical or technical talent that you want to use for His glory? If so, we are looking for people to join our worship team.  Whatever instrument you play, we're open to give it a try.  Here are the first few steps for becoming part of the worship team…
Prayerfully consider your involvement.Contact Elizabeth:eguntonbunn@gmail.com expressing your interest. The email should include:
Musical or technical experience and skill.
The reason you are interested in joining the worship team.
Elizabeth, our worship team leader, will review your information and schedule time when you can join us for an audition. 
TC PRAYER REQUESTS-
Please continue to pray for Tamarindo Church……
TC VISION – That God would guide us in our vision and strategy for reaching and serving our community.
MINISTRY TEAM- That God would grow our church board, staff and volunteers who serve at TC in unity of Spirit, in wisdom, and in humility as we serve Him. Please also pray spiritual guidance and protection over our church leaders.
VOLUNTEERS- Thanks be to God for our staff and volunteers who serve in many roles in the church. Please pray that God would continue to build a sense of unity and family among our core church members
FINANCES- Please pray that God would continue to provide and meet Tamarindo Church's financial needs for this year of ministry.
OUTREACH- That God would create a spiritual hunger in our community, and that we would see many come to a saving faith in Jesus Christ. And pray for open doors for folks in our church to share the gospel, the love of Christ, and invite someone to church.
CHURCH LIFE-
Please pray over the upcoming Women's retreat: for safe travels, for meaningful fellowship with God and one another, that the ladies would all return with a renewed sense of call in loving and serving God.
Please pray the Holy Spirit's guidance over the Leaders/speakers of the Women's retreat planning team as they prepare for the retreat this month.
Praise God, Brigg's eye was heard and his sight is restored!
Pray over Justin's time in the US this month. As our new Missions Director, he is in the US recruiting teams to come serve in Costa Rica, and raising missions support.
THE WATSON FAMILY-
Please pray spiritual wisdom and direction for Pastor Lyle as he leads the church. For Stacey to find good balance between family, ministry and work. For their children Olivia and Wolfie… that they would continue to grow to know, love, and serve Him. And also for spiritual protection over their family.